Spring Fashion 2014: Dazzling Blue
Posted by 1 on
Ten weeks. TEN WEEKS! It has been 10 amazing weeks of fashion color inspiration. When I took over my blog to show off the amazing spring colors from Pantone, I did not know what a fun adventure I was starting. There are 10 colors total, each week, I've covered each fresh spring color and include a fun little treasury. Thus far, we've looked at
Placid Blue
,
Celosia Orange
,
Violet Tulip
, and
Hemlock
,
Paloma Grey
, 
Sand,
Freesia
, and
Cayenne
. To wrap it all up, we're going to take a close look at Dazzling Blue.
Dress by Designers
Sachin + Babi
Must haves for Spring 2014: A full-length dress and ball skirt, and also the wide-leg cropped trouser. I searched my favoritest of go-to's for a dress described above and I am so glad I did. I found this amazing beauty: [caption id="" align="aligncenter" width="570"]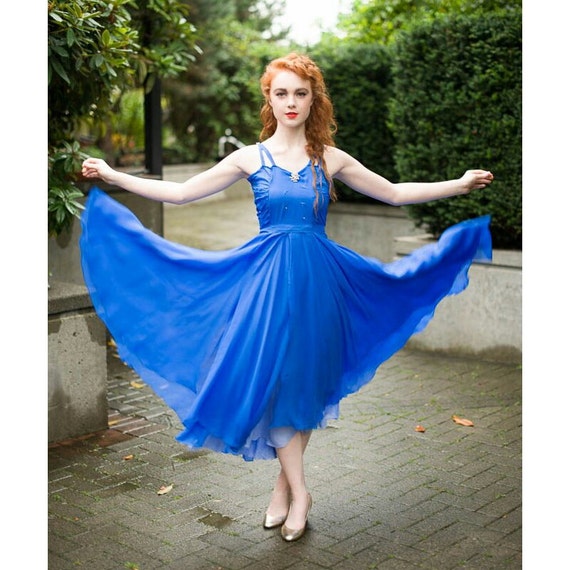 1930's Blue Silk Chiffon Gown by
Honeymoon Muse
(in Vancouver!)[/caption] What a great find. This dress is just stunning. I have really been head-over-heels about dazzling blue for a while now. Have you seen the dresses on sale at
Ever New
? <== love! How would you wear this bold, intrusive color? Tonight, I am wearing a long dazzling tunic with white-washed skinny jeans (rolled at the cuffs) and my floral mint flats. It's the perfect mix of hipster and fashionista. :)
Spring Fashion Colors: Blog Schedule
Check back each week to keep current on the spring fashion trends.
Radiant Orchid
*
Color of the Year
*
Placid Blue
Celosia Orange
Violet Tulip
Hemlock
Paloma
Sand
Freesia
Cayenne
Dazzling Blue
How is the Color of the Year chosen? There is a great interview with Leatrice Eiseman in regards to how this year's color, Radiant Orchid, won the coveted prize. (
Watch the Video
)
To distill the prevailing mood into a single hue, the PCI team, led by executive director Leatrice Eiseman, combs the world looking for future design and color influences, watching out for that one color seen as ascending and building in importance through all creative sectors. Influences can include the entertainment industry, upcoming films, art, emerging artists, travel destinations and socio-economic conditions. Influences may also stem from technology, lifestyles + playstyles, new textures and effects that impact color, and even upcoming sports events that capture worldwide attention.
---
Share this post
---
---
---