Spring Fashion 2014: Freesia
Posted by Lana Lepper on
Welcome to the 8th week of my Spring Fashion Report! To show my love and support for the new spring colors from Pantone, I took over the Wednesday Treasury to show how great these new spring colors are. There are 10 colors total, so stay tuned, each week I'll cover a new, fresh spring color and include a fun little treasury. Thus far, we've looked at
Placid Blue
,
Celosia Orange
,
Violet Tulip
, and
Hemlock
,
Paloma Grey
, and
Sand
. This week, we celebrate the excitement of Freesia.
Dress design by
Rachel Roy
. Must haves for Spring 2014: A jumpsuit with a dinner jacket in Precious Amber (the designer's signature color). [caption id="attachment_3020" align="aligncenter" width="399"]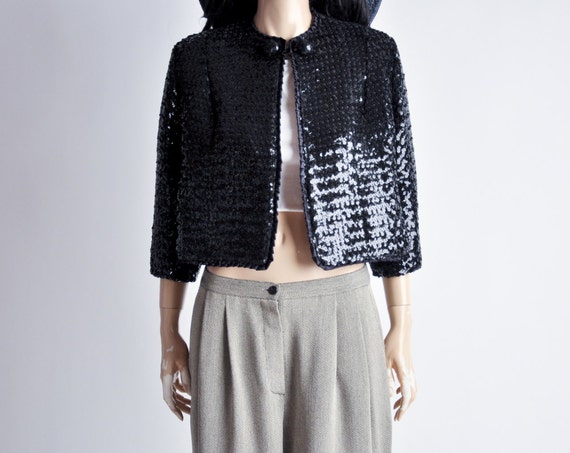 Black Sequin Dinner Jacket by
Persephone Vintage
[/caption] I do love a good dinner jacket. Personally, a good solid neckline does wonders to accent my shape and make me feel my slimmest. A crew neck is definitely my favorite. This black sequin bolero is a great dinner jacket; the 3/4 sleeves really are adorable and the shape would be amazing with the kind of jumpsuit drawn by the designers at Rachel Roy. What kind of dinner jacket would you wear? Would you ever wear a jumpsuit (in public)?
Spring Fashion Colors: Blog Schedule
Check back each week to keep current on the spring fashion trends.
Radiant Orchid
*
Color of the Year
*
Placid Blue
Celosia Orange
Violet Tulip
Hemlock
Paloma
Sand
Freesia
Cayenne Dazzling Blue How is the Color of the Year chosen? There is a great interview with Leatrice Eiseman in regards to how this year's color, Radiant Orchid, won the coveted prize. (
Watch the Video
)
To distill the prevailing mood into a single hue, the PCI team, led by executive director Leatrice Eiseman, combs the world looking for future design and color influences, watching out for that one color seen as ascending and building in importance through all creative sectors. Influences can include the entertainment industry, upcoming films, art, emerging artists, travel destinations and socio-economic conditions. Influences may also stem from technology, lifestyles + playstyles, new textures and effects that impact color, and even upcoming sports events that capture worldwide attention.
'Spring Fashion: Freesia'
by
LanaBetty
Radiant Orchid may be the color of the year, but Pantone released a full compliment of colors to pair with. Freesia is great for Spring, blogged by LanaBetty http://wp.me/p1NNmW-KW
Sponsored by send bulk email from excel.
---
Share this post
---
---
---