Spring Fashion 2014: Placid Blue
Posted by 1 on
Welcome to the Spring Fashion Report! To show my love and support for the new spring colors from Pantone, I am taking over the Wednesday Treasury to show how great these new spring colors are. There are 10 colors total, so stay tuned, each week I'll cover a new, fresh spring color and include a fun little treasury.
This Placid Blue inspired outfit was designed for Pantone by:
Trina Turk
. Must haves for Spring 2014: A boxy top done in different fabrics from eyelets to printed poplins. Modern yet playful. Perfect take on the classic tee shirt shape. Take for example, this fun little vintage number. [caption id="" align="aligncenter" width="570"]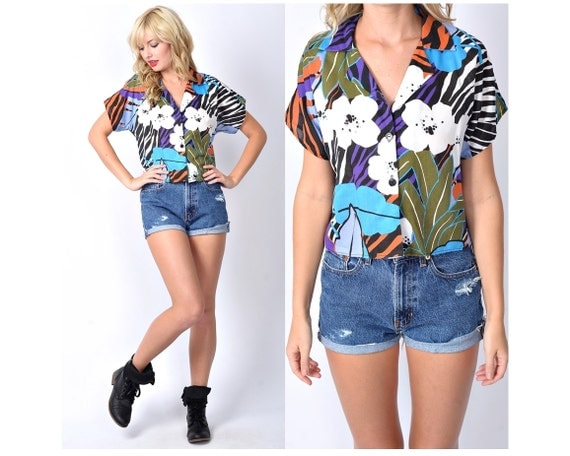 Boxy Patterned Top by
The Kissing Tree
[/caption] What do you love about this amazing color? Could you use it in your home? Your accessories? What about in your hair? I love how light the color is. It can be paired with dark colors or rich tones, like Radiant Orchid (FYI the color of the year for 2014).
What I love about Placid Blue isn't very placid. I love the lightness, how close to pastel blue it is. I made an adorable little treasury last spring with this color (here). Spring colors pair so well with Placid Blue, a pair of light wash jeans and a cozy sweater, maybe a jean jacket on top? Ohhh yeah.
Spring Fashion Colors: Blog Schedule
Check back each week to keep current on the spring fashion trends.
Radiant Orchid
*
Color of the Year
*
Placid Blue
Celosia Orange Violet Tulip Hemlock Paloma Sand Freesia Cayenne Dazzling Blue How is the Color of the Year chosen? There is a great interview with Leatrice Eiseman in regards to how this year's color, Radiant Orchid, won the coveted prize. (
Watch the Video
)
To distill the prevailing mood into a single hue, the PCI team, led by executive director Leatrice Eiseman, combs the world looking for future design and color influences, watching out for that one color seen as ascending and building in importance through all creative sectors. Influences can include the entertainment industry, upcoming films, art, emerging artists, travel destinations and socio-economic conditions. Influences may also stem from technology, lifestyles + playstyles, new textures and effects that impact color, and even upcoming sports events that capture worldwide attention.
'Spring Fashion: Placid Blue'
by
LanaBetty
Spring Fashion Trend, Placid Blue. Periwinkle, Cornflower, Light, Baby; blue! See more on the blog, every week: www.lanabetty.com
Sponsored by send bulk email from excel.
---
Share this post
---
---
---